Car Accident Attorney
Auto Accident Lawyer Hawaii
(Motor vehicle, car, bus and truck accidents)
---
William H. Lawson, Attorney at Law
1188 Bishop St.
Suite 2902
Honolulu, Hawaii 96813
Phone: (808) 524-5300 New Client Hotline
Phone: (808) 528-2525 Main Business Line
---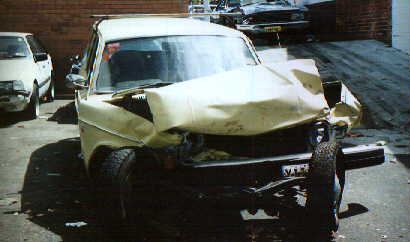 ---
Do you wish to find out more about the various types of automobile insurance coverages which are sold in Hawaii? These have been summarized for you at the following link:



---
Hawaii is a "no fault" state. That means that all drivers are required by law to maintain minimum insurance coverages applicable to their vehicle. The minimums differ for depending upon the particular vehicle involved. The State of Hawaii has different requirements for automobiles and motorcycles.
---
The deadline for filing a lawsuit in court to make claims for injuries arising out of a motor vehicle accident is generally two years from the date of the accident- or two years from the date of the last no fault, worker's compensation or public assistance benefit payment related to the accident, if such payments are made. You must file your claims in court prior to the expiration of this deadline, or your claims may be lost- regardless of their merit.
---
If you have been injured in an auto accident in Hawaii, you first need to obtain and fill out a No Fault (Personal Injury Protection) benefits application form from the insurance company for the car in which you were riding (or the car that impacted you if you were a pedestrian or a bicyclist). No Fault (PIP) usually provides medical coverage for injuries arising out of the use, maintenance or operation of a motor vehicle in Hawaii and it may also provide various other coverages (wage loss, substitute services, etc.)
---
In Hawaii at present you generally must have at least a certain amount in medical expenses- $5,000 (1/1/98 on) [$13,900 (9/1/95 to 12/31/97); $11,000 (9/1/94 to 8/31/95) ; $10,000 (9/1/92 to 8/31/94), etc.]- before you can recover for pain, suffering, mental anguish, loss of enjoyment of life, wage loss in excess of that paid by No Fault and various other losses caused by a motor vehicle accident. However, there are also a few other situations in which recovery for these additional losses may be possible. These situations include (1) accidents arising out of conduct for which punitive damages could be awarded, (2) accidents resulting in death, (3) accidents causing permanent loss of use of a part or function of the body, (4) accidents giving rise to permanent serious disfigurement, (5) accidents in which the No Fault benefits are exhausted and a few other situations.
---
Auto Accident Lawyer Hawaii
William H. Lawson, Personal Injury Lawyer Hawaii, is an experienced attorney who has provided superior legal counsel in the State of Hawaii for his clients for over 30 years. Although his main office is in Honolulu, Hawaii, Mr. Lawson has provided trial representation in court for clients on Oahu, Maui, Kauai and the Big Island. Similarly, Mr. Lawson has represented clients from many other states in the U.S. and from many other countries of the world and has handled their legal matters in the State of Hawaii. With an emphasis in personal injury law, Mr. Lawson primarily handles cases involving auto accidents, products liability, maritime and admiralty, construction accidents, recreational injuries, premises liability and falls, wrongful death, brain injuries, spinal cord injuries, and car, truck, motorcycle, moped, pedestrian and other motor vehicle accidents. Mr. Lawson handles claims against the state or federal government as well as claims against various types of insurance, including liability insurance, BI, uninsured motorist coverage, UM, underinsured motorist coverage, UIM, and other types of insurance. For excellent and highly qualified representation, please contact Hawaii personal injury attorney, William H. Lawson now on his New Client Hotline at 808-524-5300 or on the regular office line at 808-528-2525. Mr. Lawson handles most cases on a contingency fee - so there is NO FEE IF NO RECOVERY, in other words no charge for attorneys' fees in the event that the efforts to obtain a recovery are unsuccessful. Whether you are a local Kama'aina, a business visitor or a tourist, Mr. Lawson is the right attorney to help you. "Legal Help When You Need It Most"
---


Our office charges on a CONTINGENCY FEE basis in accident cases which we accept. There is NO CHARGE for an initial consultation to evaluate your case. E-mail us using the form below or call us at (808) 524-5300 or (808) 528-2525 if you have any more questions.
---
Quick contact with Attorney William Lawson at Accidents and Personal Injury Claims - Hawaii.
If you just want to send a quick email to attorney Lawson to have him consider your case, please provide him with the preliminary information listed below about your accident and the injuries. To get a free initial consultation with Personal Injury Lawyer Hawaii:

1. During business hours (Hawaii time), you are strongly encouraged to call us (1) on the New Client Hotline at 808-524-5300, (2) on our Waipahu, Aiea and Pearl City number at 808-671-7600 or (3) on our main office number at 808-528-2525, at Suite 2902 of Century Square, 1188 Bishop Street in Honolulu, Hawaii 96813. You should be promptly connected with a New Client Intake Specialist (Sheri) who will take down information about your claims for further consideration by Mr. Lawson. Our office hours are M-F - 9:00 am to 4:30 pm (except holidays) - Hawaii Standard time).

2. However, if your new client contact is outside regular office hours (Hawaii Standard Time), if you cannot reach anyone by phone after calling one (1) of the numbers above, or if you simply prefer to contact us by email, then you have the option to try to reach Mr. Lawson on his cell phone at 808-542-1166 or you may try to send an email
to us. Click on the following link and fill out an email Email William H. Lawson, Personal Injury Lawyer Hawaii.

Please grant your email program permission to send an email, if necessary

Please include (1) your correct contact information (email, phone number and mailing address), (2) the date of your accident, (3) how the accident occurred and (4) a description of the injuries. (You can cut and paste the foregoing into your email.) Once the email is completed, please submit it for further consideration. Please provide us with all of the preliminary information requested above about you, the accident and the injuries.

Please tell us if you are contacting a Hawaii personal injury attorney on behalf of someone other than yourself and, if so, please advise us of your relationship to person on whose behalf you are acting. Please submit your email after you are done composing it and, once it is received, Brain Injury Lawyer Hawaii will contact you for a free, no obligation consultation.

If you submit your information, we thank you for giving us the opportunity to be assistance.

---
LEGAL HELP WHEN YOU NEED IT MOST
---
Visiting Our Offices
Lobby Check-in Paralegal Investigation
Claim Evaluation Deadlines Disclaimer Credits
Contact Us Links More Links Solicitors Home

Types of Cases
Car Accidents- Hawaii - Defective Products Liability- Hawaii
Ocean, Boating, Shipping, Maritime Accidents- Hawaii
Falls- Trip & Fall, Slip & Fall- Hawaii - Drunk Driver- Drunk Driving Accidents
Medical Malpractice & Professional Negligence- Hawaii
Dog Bites & Animal Attacks- Hawaii Insurance Claims- Hawaii
Construction & Heavy Equipment Accidents- Hawaii