Drunk Driver Claims Lawyer Hawaii
Intoxication, Alcohol, Bars, Liquor Stores and Dram Shop Liability
---
William H. Lawson, Attorney at Law
---
1188 Bishop St.
Suite 2902
Honolulu, Hawaii 96813
Phone: (808) 524-5300 New Client Hotline
Phone: (808) 528-2525 Main Business Line
---
The Deadline to File a Dram Shop Claim / Liquor Liability Claim
The deadline for most dram shop (liquor liability) claims in Hawaii is two (2) years from the date of the injury. For those claims which arise out of car accidents, the deadlines for motor vehicle accident related claims may apply to certain aspects of such claims (see motor vehicle section of this web-site).
Claim Information
Generally in Hawaii a dram shop (liquor liability) claim starts with a bar or liquor store selling alcoholic beverage to a person who is under the influence of alcohol at the time. If that person thereafter injures a third party, the Hawaii courts may impose liability on the commercial seller of the liquor for the damages caused. The Hawaii Supreme Court first recognized dram shop liability for liquor sales by commercial establishments in Ono v. Applegate, 62 Haw. 131, 612 P.2d 533 (1980). Intoxicated adult drivers who injure themselves do not have a claim recognized by the Hawaii courts at this time. The claims of intoxicated minor drivers who injure themselves are generally are not recognized by the Hawaii courts at this time- Winters v. Silver Fox Bar, 71 Haw. 524, 797 P.2d 51 (1990) [A minor who sustains injury due to his or her own voluntary intoxication is not within class of persons protected by statute prohibiting sale of liquor to minors, and thus is precluded from a suing commercial liquor supplier]. However, it is possible that the Hawaii Supreme Court is in the process of revisiting this issue. The Hawaii Supreme Court has found that a store operator may be held responsible to innocent third parties injured as result of an illegal sale to a minor even though the injuries were caused by an intoxicated minor other than minor who bought liquor, if such injury was a reasonably foreseeable consequence of the illegal sale. Reyes v. Kuboyama, 76 Haw. 137, 870 P.2d 1281 (1994) At present, however, it appears that only third parties who are injured by a drunk person's conduct are clearly protected by Hawaii's dram shop doctrine.
Affirmative Acts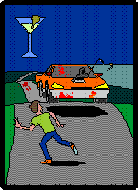 Certain persons (including taverns, bars and liquor stores) may become liable to an intoxicated person (or his estate) for his injuries if they commit "affirmative acts" which increase the risk or the severity of the injury to the intoxicated person. Although "aggressive selling" has been found not to constitute such an "affirmative act", it is probable that conduct such as transporting the person to a dangerous and busy intersection and leaving them there unattended would constitute such an affirmative act. See, Feliciano v. Waikiki Deep Water, Inc., 69 Haw. 605, 752 P.2d 1076 (1988).
Social Hosts
The social host who throws a party and whose guest causes an accident after leaving, does not have liability under Hawaii law for damages caused. Only commercial establishments (including taverns, bars and liquor stores) are liabile under the present case law. It is yet to be determined, however, whether or not employers will be found liable for "Pau Hana" party drinkers on company premises or for intoxicated persons leaving the employer's premises after parties or celebrations.
---
Drunk Driver Accident Lawyer Hawaii
William H. Lawson, Personal Injury Lawyer Hawaii, is an experienced attorney who has provided superior legal counsel in the State of Hawaii for his clients involving drunk driver claims, accidents arising from driving under the influence, injuries from driving while intoxicated and/or dram shop liability for over 30 years. Although his main office is in Honolulu, Hawaii, Mr. Lawson has provided trial representation in court for clients on Oahu, Maui, Kauai and the Big Island. Similarly, Mr. Lawson has represented clients from many other states in the U.S. and from many other countries of the world and has handled their legal matters in the State of Hawaii. With an emphasis in personal injury law, Mr. Lawson primarily handles cases involving slip & fall, trip & fall, premises liability claims and falls, auto accidents, products liability, maritime and admiralty, construction accidents, recreational injuries, wrongful death, brain injuries, spinal cord injuries, and car, truck, motorcycle, moped, pedestrian and other motor vehicle accidents. Mr. Lawson handles claims against the state or federal government as well as claims against various types of insurance, including liability insurance, BI, uninsured motorist coverage, UM, underinsured motorist coverage, UIM, and other types of insurance. Whether a drunk driver caused an accident due to drunk driving and/or a restaurant is subject to dram shop liability because a bartender, waiter or waitress served beer, wine or other alcohol to an intoxicated patron in a tavern or bar, if you have suffered damages and loss due to this type of serious personal injury, please contact us about your claims in Hawaii. For excellent and highly qualified legal representation, please contact Hawaii personal injury attorney, William H. Lawson now on his New Client Hotline at 808-524-5300 or on the regular office line at 808-528-2525. Mr. Lawson handles most cases on a contingency fee - so there is NO FEE IF NO RECOVERY, in other words no charge for attorneys' fees in the event that the efforts to obtain a recovery are unsuccessful. Whether you are a local Kama'aina, a business visitor or a tourist, Mr. Lawson is the right attorney to help you with your slip & fall, trip & fall, or other premises liability claim in Hawaii. "Legal Help When You Need It Most"
---
Our office charges on a contingency fee basis in accident cases which we accept. There is no charge for an initial consultation to evaluate your case. E-mail us or call us at 1-808-528-2525 if you have any more questions.
---
If you believe that you may have a claim of this type, please take a few moments to visit with a paralegal to outline the nature of your claim. Thank you!
---
LEGAL HELP WHEN YOU NEED IT MOST
---
Visiting Our Offices
Lobby Check-in Paralegal Investigation
Claim Evaluation Deadlines Disclaimer Credits
Contact Us Links More Links Solicitors Home

Types of Cases
Car Accidents- Hawaii - Defective Products Liability- Hawaii
Ocean, Boating, Shipping, Maritime Accidents- Hawaii
Falls- Trip & Fall, Slip & Fall- Hawaii - Drunk Driver- Drunk Driving Accidents
Medical Malpractice & Professional Negligence- Hawaii
Dog Bites & Animal Attacks- Hawaii Insurance Claims- Hawaii
Construction & Heavy Equipment Accidents- Hawaii